MY FLORAL NAME
I have changed the letter from m to n in my English ikebana name Shumho. That is Shunho.
My Japanese name is always the same. it is the matter of the spelling.
Japanese name (on Sekisatsu)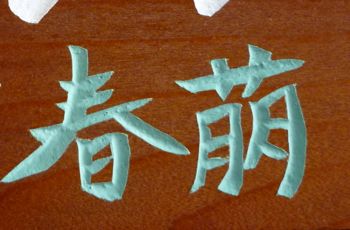 The first letter Kanji means spring and the second one means buds come out.
When I started this blog I have chosen Shumho as English ikebana name, because I thought Shunho looked boring.
I have heard that a word before b, p and m should be m and before other letters should be n in spite of the same pronunciation. That is a rule.
If you have a idea about that, please let me know.
Thank you!